Stenco Construction was recognized for its excellent performance among thousands of Toyota Motor Manufacturing's indirect and direct North American's suppliers at Toyota's recent 2018 Indirect Annual Business Meeting. At the ceremony, Stenco was nominated for and won the following awards: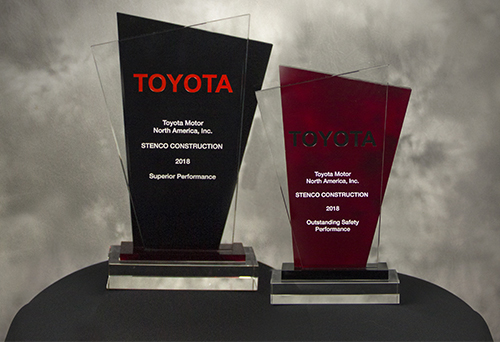 Superior Performance Supplier Award in Construction, Machinery, and Equipment: The highest award level possible, Stenco was singled out as having "superior" performance amongst all of Toyota's North American suppliers in the construction, machinery, and equipment category.
Outstanding Safety Performance Supplier: Stenco Construction stood alone as having the best safety performance amongst all of Toyota's North American suppliers.
Stenco was also nominated for the Outstanding Customer Service Supplier Award, one of only a few companies to be nominated for that award out of the entire selection of suppliers. These Supplier Awards represent an important moment of recognition by Toyota for all of Stenco's hard work over the last few years.
"Our teams have worked very hard to deliver all projects to Toyota with a commitment to safety and the highest level of quality," explained General Manager Nick Schallmo. "We are humbled and honored to graciously accept these awards and look forward to continuing our longstanding relationship with Toyota."
In addition to the awards, Toyota also released Stenco's Supplier Report Card, which grades suppliers on adherence to Toyota's safety, quality, service, and other requirements. This year, Stenco received its highest grade yet across all categories!